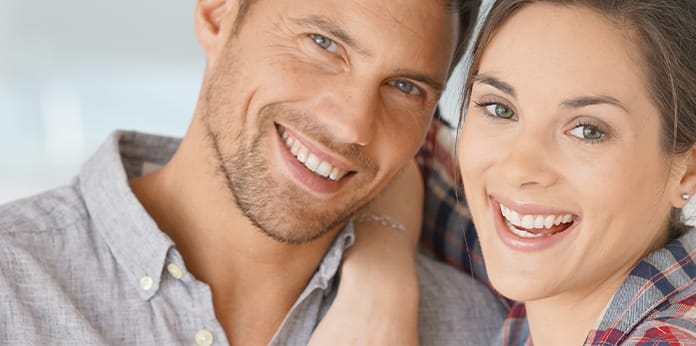 Our Toronto dentists provide both in-office and take-home teeth whitening to help lighten your natural teeth.
What is Teeth Whitening?
Teeth whitening, or bleaching, can be an effective way to remove stains and lighten your teeth. The active ingredients in the whitening solution are usually hydrogen peroxide or carbamide peroxide. Oxygen acts on the tooth enamel as the active ingredient breaks down, creating the whitening effect. 
In-Office Teeth Whitening
In-office whitening provides the quickest way to whiten teeth. Your dentist or hygienist will apply the whitening solution directly to the teeth. The solution can be used in combination with dental lasers to help speed up the whitening process.
Results are usually seen in only one 30 to 60 minute treatment session. To achieve dramatic results, several appointments are usually needed.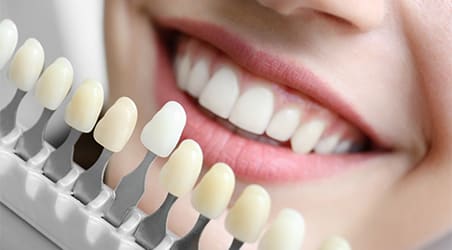 Take-Home Teeth Whitening
Take-home teeth whitening kits are a fast, safe and effective tooth whitening option. Professional custom-made whitening trays are made by taking a mold of your teeth.
The whitening gel is a thick solution, which you apply to your clear, custom-fitted tray while you sleep for ultimate performance and maximum convenience. In only 7 to 10 nights, you can achieve significant whitening results. 
Why Teeth Darken
Teeth naturally darken with age. Some other factors that can increase surface stains and darken the appearance of teeth include lifestyle factors (such as smoking, consuming dark beverages, medications) and excessive fluoridation during childhood (called fluorosis).
Hours of Operation
Monday: 08:00 am - 06:00 pm
Tuesday: 08:00 am - 08:00 pm
Wednesday: 08:00 am - 08:00 pm
Thursday: 08:00 am - 08:00 pm
Friday: 08:00 am - 06:00 pm
Saturday: 09:00 am - 04:00 pm*
Sunday: Closed
*Open some Saturdays only *Open some Saturdays only
Location
York Lanes Dental Office
80 York Boulevard,
North York,
ON
M3J 1P3
CA
Phone Number